Why VERDE VDI™?
VERDE VDI provides the most secure, easy-to-use, enterprise-grade virtual desktop infrastructure. At a price that is considerably less than our competition, VERDE VDI offers three additional capabilities that separate it from the competition: we treat Windows and Linux clients as equal citizens, eliminate WAN latency by decentralizing VDI processing to the edge of your organization, and we span one's end user computing fabric from on-premise to cloud-hosted, or hybrid, seamlessly.
Ready to get started? We are here to help.
VERDE VDI delivers enterprise-level features.
Desktop computing for business doesn't need to be complicated or expensive. VERDE VDI takes the sensibilities of enterprise-level virtualization and makes them available to small- and medium-sized business.
Windows and Linux
No WAN Latency
Fast ROI
Security
Our competitors continue to avoid reality and disregard the prevalence of Linux in mainstream corporations. VERDE VDI embraces Linux, providing a seamless environment for serving Linux desktops of all stripes and configurations, side-by-side with Windows.
But we go further than just serving up desktops. Lets say I have to do a compile job once a month, needing multiple cores to finish in a reasonable amount of time. I don't have to have a beefy workstation sitting idly all month waiting for that job to call upon it. With VERDE VDI there can be an instance available to the engineer that can be called upon when needed.
Resources will be carved out of the existing pool to handle the job, and then returned to the pool when complete. Does that sound familiar? Sound like cloud? Well, yes.
VDI has a cloud-like architecture and allows organizations to reconfigure on the fly depending on the needs of the moment. In a Linux desktop user population – research, engineering, CAD, military, intelligence, etc., VDI is a huge advancement in flexibility, cost optimization and security.
VDI, as promoted by our competitors, has gotten a bad name from its inability to be successful outside of headquarters.
VERDE VDI has an innovative capability that uses caching and differential updates, among other techniques, to effectively "akamaize" VDI, cache it at the edge for easy, quick access, but without requiring any local management/administrator involvement.
The major benefits of this approach in addition to eliminating WAN latency, is business continuity – if the external network goes down, all the local apps will keep working without interruption. It also reduces network bandwidth as the applications are all communicating over the LAN and seldom need to go out over the WAN for normal desktop application usage.
Schools, campuses, branches, regional data centers, mission isolation, etc. all benefit from this architecture. VERDE VDI is a perfect solution for bringing the benefits of VDI to these user populations.
VERDE VDI, is an end-to-end virtual desktop infrastructure and management solution that combines VDI, offline VDI and VDI remote branch solutions to remove the management burden, complexity and cost traditionally associated with desktop virtualization solutions.
VERDE VDI offers unified management and reporting through a single console and is adaptable for today's dynamic environment. Ideal for companies of all sizes, VERDE VDI can scale up to ten thousand clustered servers or scale down to a single-server configuration.
Through a combination of better hardware efficiencies, more attractive all-in-one pricing, the ability to optimize workloads between Windows and Linux, and incredibly easier management, VERDE VDI is by far the best ROI among the competition.
VERDE VDI has a long history as a preferred secure desktop platform with demanding users like the NSA, CIA CSEC and others. And for good reason. VERDE VDI is secure on a number of levels.
Being built organically from the ground up gives us a much more deterministic architecture as opposed to the cobbled-together monstrosities from our competitors, which not only make their solutions complicated and difficult to manage, but also introduces inherited code and architectures from smaller, acquired companies bought to plug the holes in their offerings.
VERDE VDI starts with a solid, secure Linux foundation. It then incorporates a dynamic provisioning model that makes users more impervious to malware by making unsanctioned changes non-persisting. We even go so far as to give admins the ability to set permission on USB devices by model and serial number.
If you identify only this make/model of drive authorized on this device, then any attempt to copy info to a non-authorized device will be blocked and logged. VDI in general offers tremendous security improvements over traditional desktops, but VERDE VDI takes this security to a whole new level with innovations we have developed over a long relationship with many demanding users.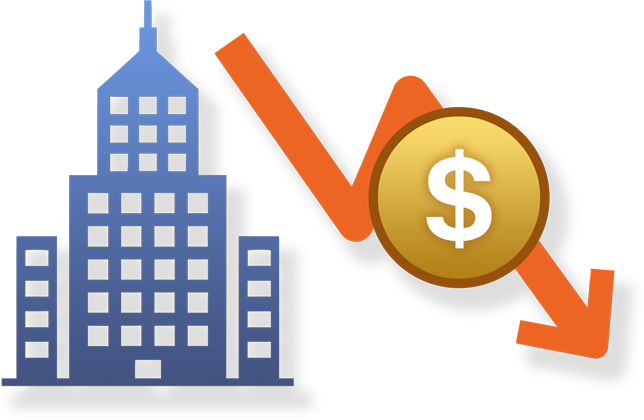 AFFORDABLE ENTERPRISE-LEVEL FUNCTIONALITY
VERDE VDI is a purpose-built VDI solution for enterprise customers without the big price tag of other solutions.
Not only do you save on desktop management and end-user computing by virtualizing, we drop the cost of administration and user provisioning.
Multiple Easy-to-Deploy Modes
Get VERDE VDI set up and running in hours, not days or weeks.
Efficient workflow and image management simplifies desktop and user provisioning. Support multiple deployment modes including on-premise, cloud (IBM Bluemix) and hybrid.
Our unique Cloud Branch technology offers better remote office performance and reliability.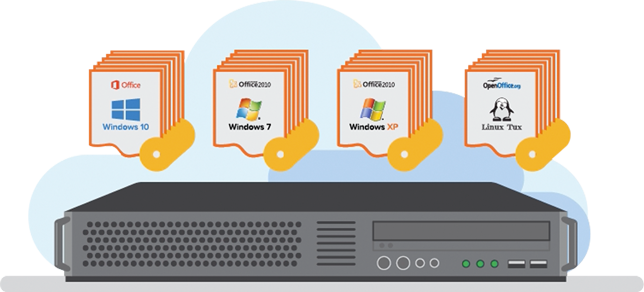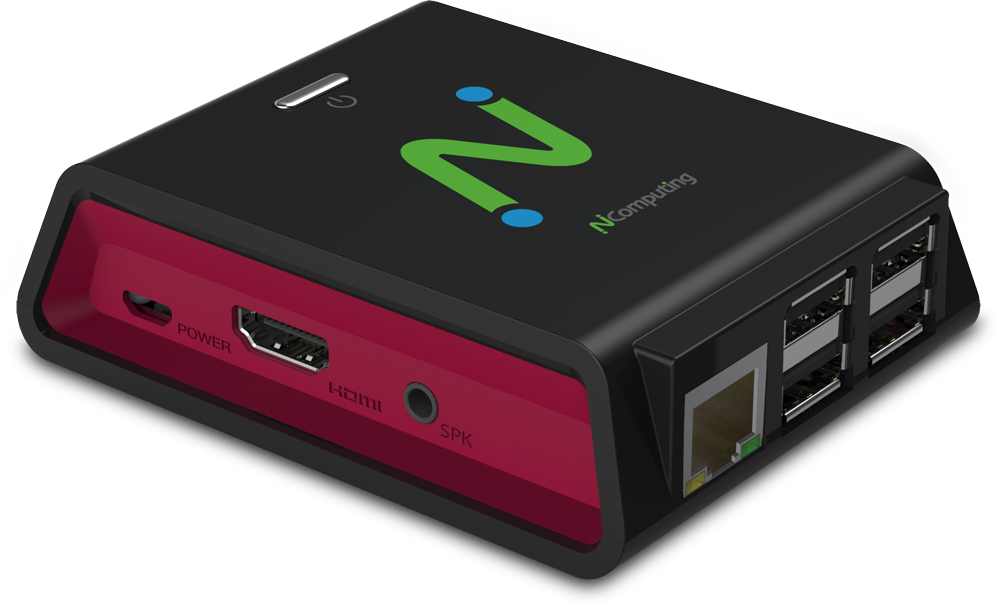 Client Access
VERDE VDI connects to a wide range of endpoint devices including PCs, thin clients, software clients and any HTML5 enabled browser. Regardless of where you are, you're never far away from your desktop.
With VERDE VDI 8.2 you now have the option to use the RX300. Our own thin client device with support for both RDP and UXP 2.0 access protocols. Using the RX300 as your connection device means you have one company that supplies both an award-winning, server-hosted VDI software solution and an easy-to-manage access device.
In addition to the RX300, we continue to support:
PC Clients

Windows 7, 8, 10
Mac OS X up to and including High Sierra 10.13.3
Linux OS models running Red Hat, Fedora, CentOS, Ubuntu
Chromebooks using any HTML5 web browser
Thin Clients*

Linux-based thin clients
Windows-based thin clients
RX300 running firmware 3.2.1 and above
Peace-of-Mind Security
VERDE VDI is built from the ground up on a secure Linux foundation.
Prevention of malware, virus attacks, data leakage and unauthorized access to the internal network are all cornerstones of VERDE VDI security protocols.
Dynamic desktop provisioning protects users by making unsanctioned changes non-persistent. Automating desktop image management also helps keep deployed workspaces up-to-date.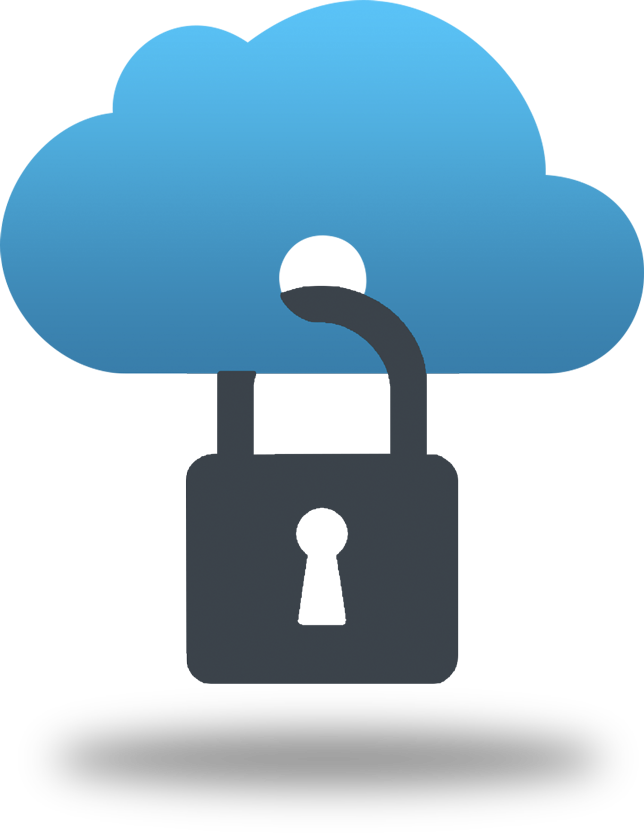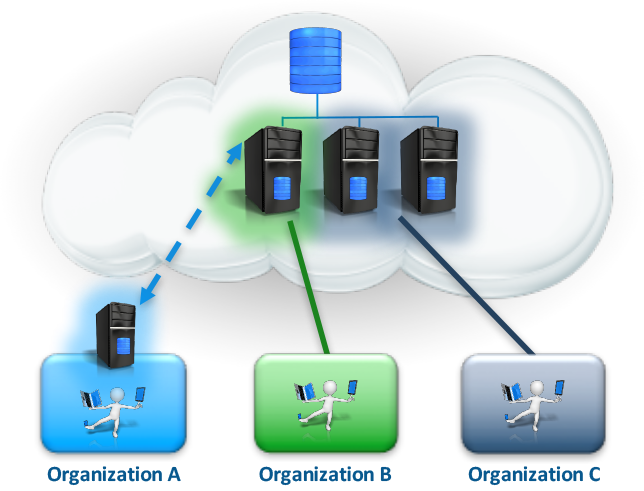 VERDE VDI Cloud Fabric is Multi-Tenant
Flexible choice between centralized or decentralized processing
Ability to scale globally within an enterprise with automatic replication to regional data centers.
LAN performance and availability over wide-area-network (WAN)
Remote Branch Office / Data Center / MSP organization can scale horizontally from one to thousands of servers
---
Tenants can be assigned to a specific server or group of servers within a VERDE cluster (Org B & C)
Enables dedicated resources per tenant

Max Number of Users
vRAM, #vCPUs, User Image Size

Tenants can have on-premise infrastructure co-located with their applications and data
Storage Optimizer
Lowest storage CapEX
Integrated solution
Leverages inexpensive NAS
No need for expensive SSD or 3rd-party software solutions
Reduced requirements
Reduces number of unique images by separating the User Layer from the shared OS image
Shared OS images automatically cached on VERDE cluster and branch server-based Direct Attached Storage (DAS)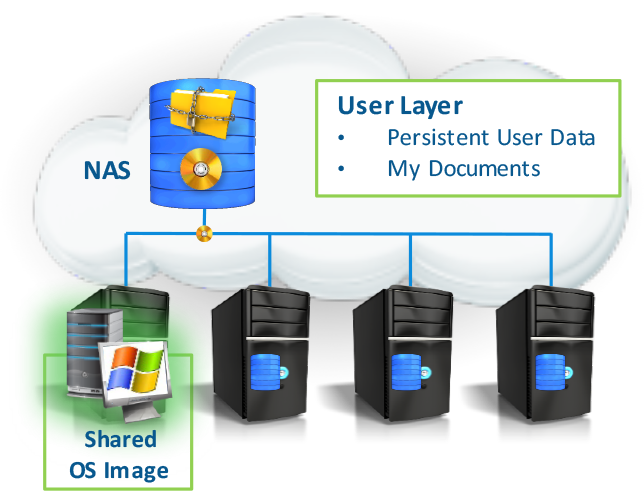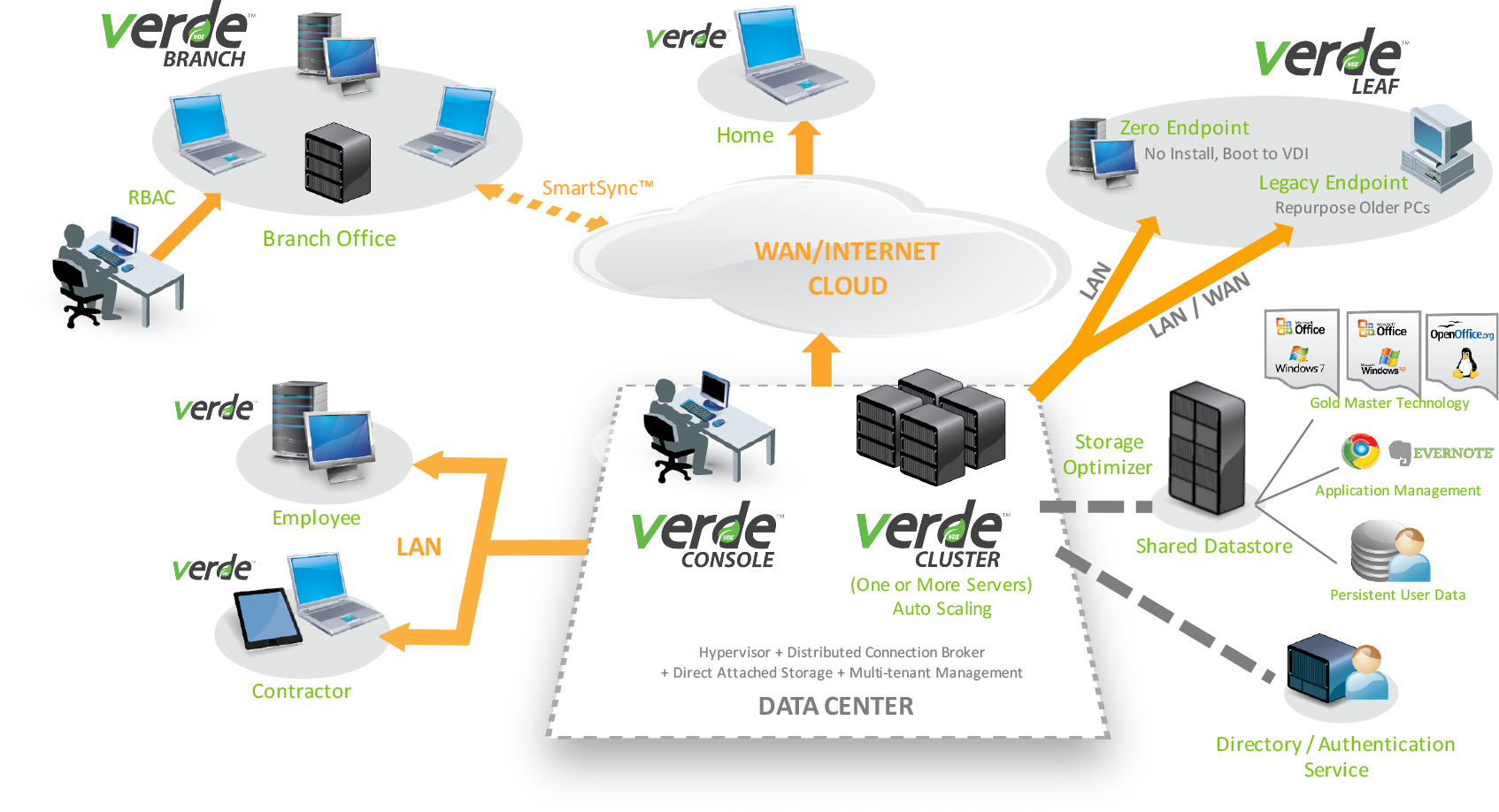 Ready to get started? We are here to help.
Documentation
Videos
VERDE VDI: Creating a Gold Image