A Next Generation Enterprise-Ready Thin Client for Citrix
The RX420(IGEL) enterprise thin client, powered by IGEL OS on the latest Raspberry Pi4 platform, brings premium performance and native dual display support to the Citrix Ready Workspace Hub family.
It is optimized for Citrix HDX which makes certain that it meets the performance, security and manageability demands of the enterprise.
Through close collaboration with Citrix, the RX420(IGEL) is part of the Citrix Ready Workspace Hub program which will solve innovative use cases around enterprise IoT dealing with workplace transformation.
Citrix Ready workspace hub provides many key benefits for enterprises:
Slashes VDI client hardware and support costs by up to 80%
Optimized for Virtual Apps and Virtual Desktops
Integrated enterprise-grade central device management
Native dual display with up to 4K display resolution support
3D workload support for graphic-intensive applications
Rugged and ultra-compact
Integrated Chromium browser for web and IOT applications
Session roaming and wireless docking
Proximity authentication for enhanced productivity and security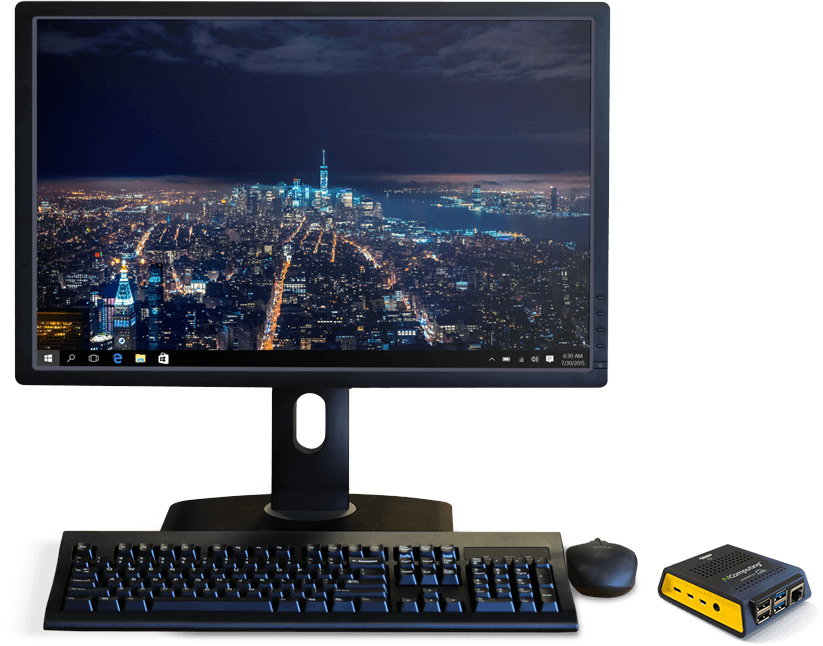 OPTIMIZED FOR CITRIX HDX
NComputing is an official Citrix HDX Ready Pi partner. The RX420(IGEL) is fully optimized for Citrix HDX Ready integration delivering a low-cost and powerful desktop virtualization solution for enterprises.
Powered by the latest Raspberry Pi 4 platform with quadcore Broadcom SoC and IGEL OS(RPI4), RX420(IGEL) delivers premium performance and provides up to 4K Ultra HD multimedia capabilities demanded by knowledge works and in other demanding environments using minimum power consumption.
The RX420(IGEL) thin client incorporates full client-side rendering for efficient playback of video content, with resolutions up to 4K@60Hz single display or 4K@30Hz dual display.
Easy, Efficient Enterprise Management & Control
The IGEL Universal Management Suite and its simple yet powerful user interface makes it easy for a non-expert to control and manage from just a few to up to 300,000 connected devices with minimal training. Easy, profile-based drag & drop configuration & management, and highly scalable with HA/disaster recovery.
Simplify typical management tasks such as firmware updates, configuration changes, and device resets, even in hybrid environments. IGEL Cloud Gateway manages and controls remote/off-network users with secure HTTPS based protocol to replace expensive VPNs.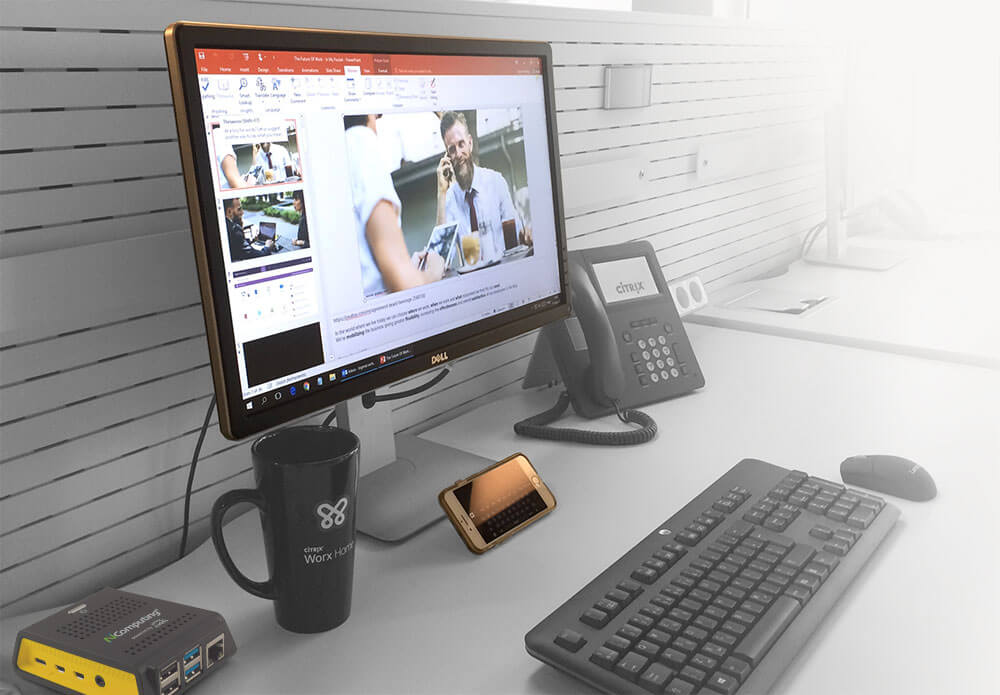 (COMING SOON) Session roaming and screen casting to the workspace hub is supported on these versions of the Citrix Workspace app.
Citrix Casting and proximity authentication
The RX420(IGEL) Citrix Ready Workspace Hub is a secure, powerful and low cost enterprise thin client & IoT hub that transforms the workplace.
Improve employee productivity with session roaming and screen casting, allowing a Citrix session to pass from a mobile device to the workspace hub, or redirect the display from their device to an unoccupied workspace hub connected to the TV in the conference room.
NATIVE DUAL MONITOR DISPLAY
The new RX420(IGEL) thin client comes with premium performance and native dual display support, with resolutions up to 4K @60Hz or dual display configurations of up to 4K@30Hz.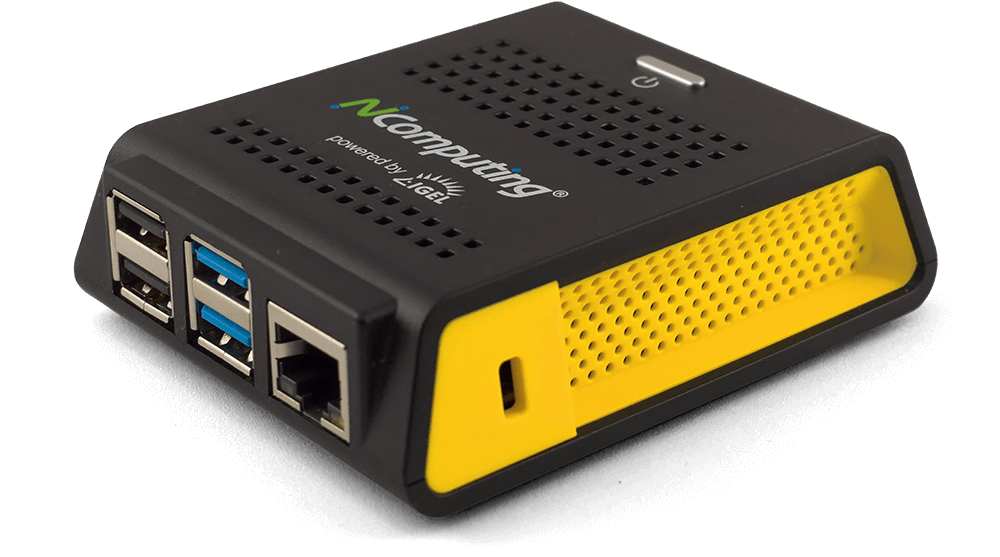 Flexible Endpoint and IoT Hub
RX420(IGEL) provides flexible endpoint deployment with built-in Gigabit Ethernet and dual-band 2.4/5Ghz Wi-Fi (802.11 b/g/n/ac) with 802.1x connectivity.
These endpoints are also IoT edge devices, part of the Citrix Workspace IoT. Azure Edge technology adds the ability to execute workflow automation.
BROAD USB PERIPHERAL SUPPORT
RX420(IGEL) allows transparent redirection of USB peripheral devices including mass storage, printers, scanners, smart card readers, headsets or speakers, webcams, and many more to come in addition to the standard keyboard and mouse. Network-connected printers can also be redirected to Citrix sessions.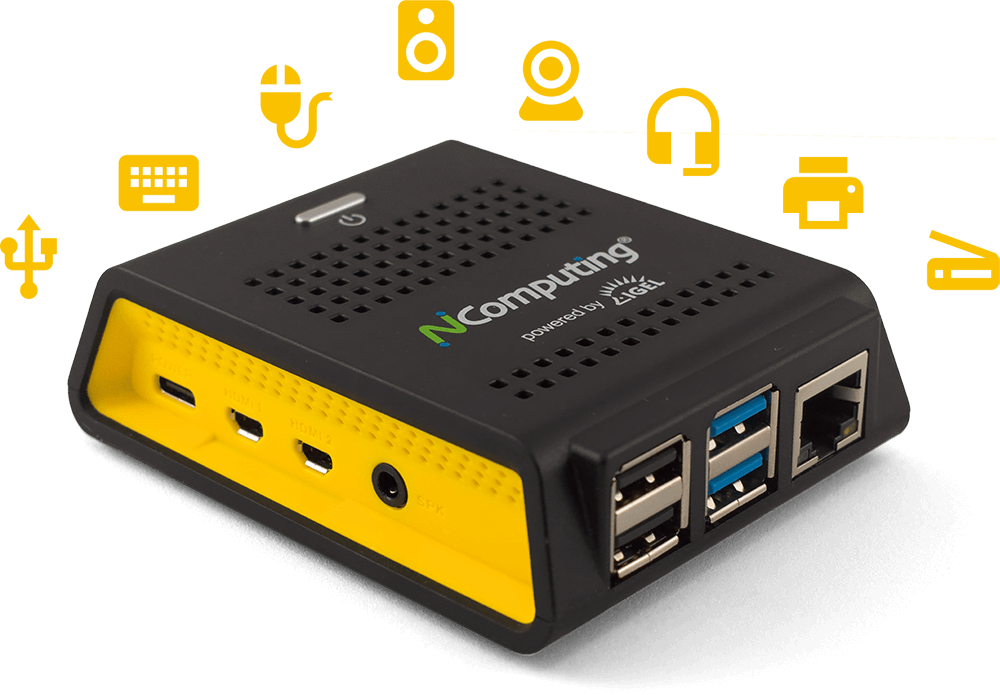 Videos
RX420(IGEL) demonstration
Microsoft Teams performance on RX420(IGEL)
Exploring RX420 (IGEL) - Disrupt Unite 2021
IGEL Ready NComputing RX420 Demo Video
FAQ
What is the difference between RX420 and RX440 devices?
The only difference between these devices is RAM. RX420 has 2GB of RAM and is sufficient for normal operation. RX440 has 4GB of RAM, and is recommended for use cases that rely heavily on the local Chromium browser with multiple open tabs.
Is 2GB of RAM sufficient?
For virtualization, 2GB of RAM is plenty and is the standard amount in all of the RX-420 devices. In certain circumstances, more RAM can be advantageous, specifically if your use case requires heavy use of the local Chromium browser. An example of this would be keeping many browser tabs open at once, playing multimedia content, or accessing the web version of Microsoft Teams for video calls. For these cases we have the RX-440 devices. These devices are identical to RX-420 except for the inclusion of 4GB of RAM. These devices are available for direct order only. For more information, please contact your NComputing representative.
What is the difference between RX420 and RX440 devices?
The only difference between these devices is RAM. RX420 has 2GB of RAM and is sufficient for normal operation. RX440 has 4GB of RAM, and is recommended for use cases that rely heavily on the local Chromium browser with multiple open tabs.
What is IGEL OS and NComputing's relationship with IGEL?
NComputing and IGEL jointly collaborated to port IGEL OS for ARM to the NComputing RX420(IGEL) platform, powered by Raspberry Pi 4. IGEL is a strategic partner of NComputing for this joint solution focusing on the Citrix Enterprise market.
How does the licensing work for IGEL OS on ARM?
You'll need a IGEL license for RX420(IGEL) device. The product ships with a 30-day IGEL starter license. Upon registering, you can extend the IGEL license to a 90-day full-feature license with Multimedia Codec Pack for a full experience.
Existing IGEL customers can obtain the license from the IGEL License Portal, the same as how they have done in the past for x86-64 device licenses. The IGEL licenses are portable, but the customer needs to register with the IGEL Portal to generate the correct number of licenses.
Where can I find important instructions to get started?
How will this product be supported?
NComputing will support the hardware. IGEL will support the software – this is a different code base to the standard IGEL x86 code base, and as with the IGEL x86-64 code base it will be fully supported by IGEL.
What are the levels of IGEL support for the IGEL OS for ARM on the NComputing device?
IGEL offers various support packages for the RX420(IGEL) solution:
Select support – access to the kb and email support
Priority support
Priority Plus support
Please contact IGEL for more information.
What is the maximum resolution the NComputing RX420(IGEL) can support?
NComputing RX420(IGEL) thin clients support screen resolutions up to 3840 x 2160 (4K) @ 60Hz with single display, up to 2x 1920 x 1080 (FullHD) @ 60Hz in dual display setups, or 2x 3840 x 2160 (4K) @ 30Hz in dual display setup.
How does the IGEL UMS see the IGEL OS on an NComputing device?
From the IGEL UMS perspective the devices look entirely the same. Just as today there are devices that the UMS recognizes e.g., an AiO device with a separate monitor, and you can drag and drop a policy onto that machine for how two monitors behave, which may not make sense and will not be "accessed" by a device with only one monitor.
Will all the features of IGEL Workspace Edition and the Enterprise Management Pack be available on the NComputing device?
No. For the first release IGEL will support the Citrix Workspace App, and the Chromium browser, but in the long run IGEL will incorporate more and more functionality into the IGELOS for ARM edition. For more details and a complete listing of x86 v ARM features visit www.igel.com/ncomputing
What are the key differentiators for IGEL OS for NComputing?
IGEL offers:
Enterprise Management and Control
Hybrid environments
Support for remote devices
Chain of Trust for increased security
Performance improvements
Enterprise level support & professional service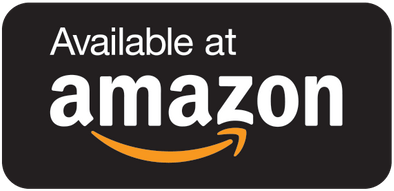 | | | |
| --- | --- | --- |
| HDMI Cables | HDMI Dongles | RX420(IGEL) |